At the invitation of Caritas Lebanon and Mar Mansour Association, and in coordination with "L'Oeuvre d'Orient" association, a meeting was held at the Caritas headquarters in Beirut, bringing together more than 50 charitable and social organizations in Lebanon. The purpose of this meeting was to coordinate participation in the International Day for the Eradication of Poverty scheduled for Sunday, November 19, 2023, an event called for by His Beatitude Patriarch Mar Bechara Boutros Rahi and the Council of Catholic Patriarchs and Bishops in Lebanon.
The meeting began with a speech by Father Michel Abboud, emphasizing the importance of the gathering, especially in these challenging times. He stated, "Especially in these difficult circumstances, we all look for every horizon from which we can share a glimmer of hope with those who are in dire need of it." He also noted that "every crisis is an opportunity for us to work together more and, most importantly, to collaborate for the common good."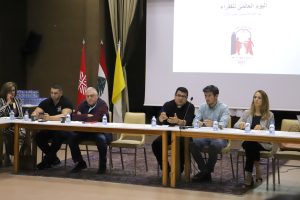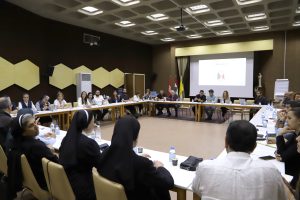 Vincent Gelot, the Director of the "L'Oeuvre D'Orient" foundation in Lebanon and the Middle East, explained about the upcoming event on the following Sunday, as well as the logistical arrangements for effective participation.
In addtion, a statement from the Council of Patriarchs and Bishops on the subject was read. The associations called on all their members to participate actively in this meeting, reaffirming their commitment to stand with the poor and reject all forms of marginalization of social and charitable institutions.
In this context, the participants agreed on the importance of enhancing unity among charitable institutions in Lebanon and the social impact that can be achieved through collective action. They emphasized the significance of active participation by associations by providing firsthand accounts related to the event's theme on Sunday, sharing their valuable experiences and contributions to this noble cause.
According to Sunday program, the activity will begin at 11:00AM with a Mass, followed by moving testimonies from students and several associations at 12:15 PM. The day will be concluded with lunch at 1:00 PM, providing an opportunity for participants to exchange experiences and engage with one another.